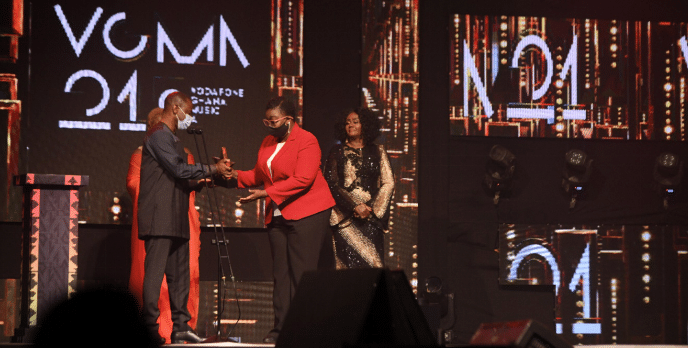 VGMA Honours Health Workers For Their Gallant Role In The Fight Against COVID-19
The 21st Vodafone Ghana Music Award has acknowledged the heroic efforts of health workers in the country's fight against SARS-CoV-2 (COVID-19) Pandemic.
The Covid-19 pandemic which took the world by surprise, literally put a halt to life, brought the economy to a standstill and caused various job loss and deaths globally.
While everyone was running from the virus, health workers designed the machinery to control the impact of the virus in Ghana and the world at large. They researched, tested, treated and provided guidelines for us to survive in the pandemic which had claimed more lives than expected.
As a result, the Ghana Music Awards Scheme thought it necessary to say thank you and honour health workers for their joint effort to control the impact of the pandemic in the country.
The Director-General of the Ghana Health Service Dr. Patrick Kuma-Aboagye who received the awards on behalf of the Service and the entire health work force, dedicated the award to all health workers in the country for their sacrifices and dedication to the COVID-19 pandemic fight and also thanked the organisers of the event for their recognition.
https://ghanahealthservice.org/ghs-item-details.php?scid=22&iid=157