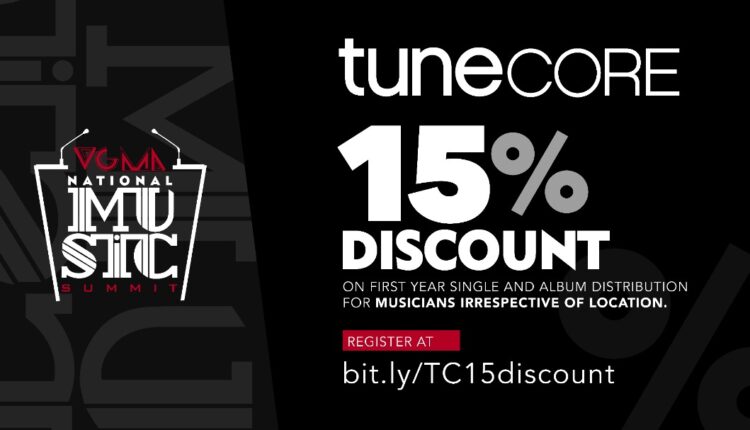 TUNECORE offers 15% discount to Ghanaian artists in partnership with the VGMAs
Leading digital music distribution company, TuneCore, which launched operations in Africa earlier this year is offering a 15% discount to Ghanaian artists in partnership with the Vodafone Ghana Music Awards. The offer comes as part of TuneCore's commitment to empower talented independent musicians across the globe by facilitating a seamless music distribution process.
TuneCore's entrance in Africa aligns with an increasing number of independent artists in the region. Guests at the recent VGMA National Music Summit pledged to take urgent action to improve the commercial gains of Ghanaian musicians by broadening their reach and increasing their marketability not just in Ghana but globally.
All talented creatives and aspiring musicians who want to take their careers to the next level are eligible for the offer. The discount covers first single and album distribution irrespective of the musicians' location. The signup process to become a TuneCore artiste is simple, efficient, and transparent.
Chioma Onuchukwu, Head of TuneCore West and East Africa, commented, "We distribute your music to all our partners when you sign up for TuneCore distribution; that is, if you want to have your songs sent to all of the retailers we provide. We can also send your music to a chosen number of stores that you deem appropriate for your brand.On the publishing side, TuneCore charge a one-time sign-up fee for sync license. And for a small commission, our team will actively look for and pitch potential placements on TV shows, advertisements etc. We will collect and pay out your sync royalties. The African market is a growing one with a lot of talent, at TuneCore we will always be committed to making distribution and publishing easy for every musician."
About TuneCore
TuneCore is the global platform for independent musicians to build audiences and careers – with technology and services across distribution, publishing administration and a range of promotional services.
TuneCore Music Distribution services help artists, labels and managers sell their music through Spotify, Apple Music, Amazon Music, Deezer, TikTok, Tencent and more than 150 download and streaming stores worldwide, while retaining 100 percent of their sales revenue and rights for a low annual flat fee.
TuneCore Music Publishing Administration assists songwriters by administering their compositions through licensing, registration, worldwide royalty collections, and placement opportunities in film, TV, commercials, video games and more. The TuneCore Artist Services portal offers a suite of tools and services that enable artists to promote their craft, connect with fans, and get their music heard.
TuneCore, part of Believe, is headquartered in Brooklyn, NY, with offices in Los Angeles, Nashville, Atlanta, and Austin, and operates globally through local teams based in the UK, Germany, France, Belgium, Italy, Russia, Brazil, Mexico, Nigeria, South Africa, India, Japan and Singapore across 4 continents. http://www.tunecore.com
About Believe
Believe is one of the world's leading digital music companies. Believe's mission is to develop independent artists and labels in the digital world. We accomplish our mission by providing them the solutions they need to grow their audience at each stage of their career and development.
Believe's passionate team of digital music experts around the world leverages the Group's global technology platform to advise artists and labels, distribute and promote their music. Our 1,270 employees in more than 50 countries aim to support independent artists and labels with a unique digital expertise, respect, fairness and transparency. Believe offers its various solutions through a portfolio of brands including TuneCore, Believe Label & Artist Solutions, Believe Artist Services, Nuclear Blast, Naïve, Groove Attack and AllPoints.